Delizia Estense's vinegar factory came to be in 1970: the result of Sante Bertoni's passion for Traditional Balsamic Vinegar of Modena. Over 50 years of activity, the art of making Balsamic Vinegar has been perfected, and a new dedicated area has been created for the comfort and well-being of visitors, making this historic vinegar factory an agritourism as well. 
---
Wellness goal.
Delizia Estense offers its guests a chance to experience nature and local cuisine. The landscape surrounding the vinegar factory takes minds into an oasis of relaxation, and a visit among the barrels of Traditional Balsamic Vinegar transports the senses into a realm of aromatic notes, while the flavors of local cuisine embody the gastronomic personality of the territory. Well-being is a goal to be achieved with mind and body, and thanks to the collaboration with Terme della Salvarola, it is now possible to live an extraordinary experience: after picking fresh grapes from the rows of Lambrusco Grasparossa, professionals welcome visitors into the Sensory Wellness Center for wine therapy, where a treatment with grapes and thermal water promotes blood flow, soothes the skin and treats all the senses.
---
Far from the chaos of the city. 
Located a few kilometers away from Modena, the natural setting of Montegibbio surrounds Delizia Estense's vinegar factory on the hills of Sassuolo, at an altitude of 350 metres over sea level. Next to an English garden and centuries-old woods, the Trebbiano and Grasparossa vines are grown with dedication to create qualitative Balsamic Vinegar of Modena. It is in this context that guests can escape from the chaotic city life and immerse themselves in nature.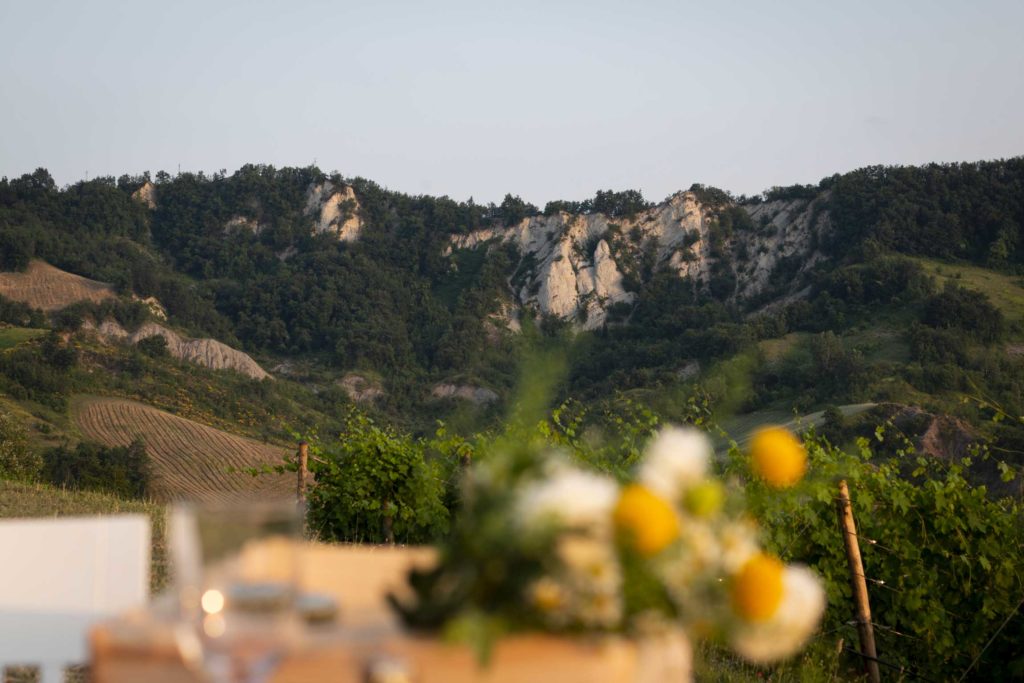 ---
Fifty years of Traditional Balsamic Vinegar. 
Delizia Estense produces PDO and PGI certified Balsamic Vinegar of Modena. There are 50 batteries, each of which can fit up to ten barrels of different capacities and woods: oak, chestnut, cherry, juniper, mulberry, ash and black locust guarantee a multitude of fascinating flavors. To produce PGI Balsamic Vinegar of Modena, Delizia Estense uses 2500 barrels of various sizes to ensure a perfected aging process in the best environmental conditions.
---
Locally sourced flavors.
Delizia Estense's cuisine features typical dishes with locally sourced products from the vineyards surrounding the vinegar factory and from small producers in the area, such as the San Paolo dairy farm and the Ovomontano Agricultural Company. Currently, Delizia Estense is in the process of fully transitioning towards organic certified products.
---
Exploring Montegibbio.
Not distant from the vinegar factory, the medieval Castle of Montegibbio proudly stands on top of the hills, dominating the view over the Po Valley. Their close relationship with the land has led the Bertoni family behind Delizia Estense to organize concerts and tasting events within the hills of Montegibbio, spreading the local gastronomic culture.To live a unique experience on the hills of Montegibbio, find the perfect event for you: https://www.deliziaestense.it/eventi/ .